Tarzāna Sķēršļu Parks
At Stropu lake created adventure park "Daugavpils Tarzan" with six obstacle tracks, designed for active recreation for adults and children.
Children's track for the 3-6 year olds, created a transparent and accessible area, facilitating the need for parental presence or assistance.
The green track is designed for adults and children from six years of age and is made up of 16 obstacles up to three meters in height. The blue track has relatively easy to overcome obstacles up to five meters above the ground. The red track is set at a height of 10 meters, featuring an attractive Tarzan leap, a flying skateboard, and a 100-meter-long runway runway. The Black Track, on the other hand, is designed for those who have a little more power, as there are 14 high-level obstacles located up to 12 meters above the ground.
Prices
6-9 years

<2h

Green Track

Blue Track

10-17 years

<3h

Green Track

Blue Track

Red Track

Black Track

18+ years

<3h

Green Track

Blue Track

Red Track

Black Track
Tracks
Green Track

Zaļā trase paredzēta gan pieaugušajiem, gan bērniem no 6 gadu vecumam, tā veidota ar 16 šķēršļiem līdz trīs metru augstumā.

Blue Track

Zilā trasē veidoti 15 samērā viegli pārvarami šķēršļi , kas pacelti līdz pat pieciem metriem virs zemes.

Red Track

Sarkanā trase izveidota 10 metru augstumā , tajā iekļauts atraktīvais ''Tarzāna lēciens'', lidojošais skrituļdēlis un trases nobeigumā 100m garš troses nobrauciens.

Black Track

Melnā trase - paredzēta tiem , kuriem pa spēkam nedaudz vairāk, jo trasē izvietoti 14 augstas sarežģītības pakāpes šķēršļi, kuri izvietoti līdz pat 12m virs zemes.

Children's Park

Paredzēta vismazākajiem dalībniekiem. Vecākiem jāiet līdzi un jāpalīdz piesprādzēt karabīnes, ja nepieciešams. Jautrākais šķērslis – 50m garš nobrauciens pa trosi!
Obstacle Park Discounts
Group Discounts

Participants count 1

Participants count 1

Discount: 0%

Other Discounts

ISIC: 10%

Disabled: 50%

Birthday and name day: 50%
Most trustful safety system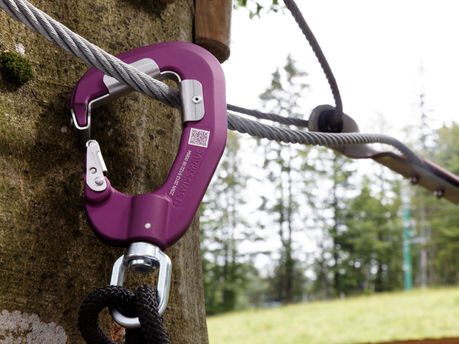 Obstacle park is equipped with a new generation safety system of Swiss company Kanopeo providing that each visitor of the park is continuously attached to a safety rope during the whole course thereby your adventure will be safe.